Request Info

Privacy

How can We help your business grow?

Evaluation of your business, target market and personal style is used to create website design that works for you. Call VAD for website design. Take creativity and technology to the next level. [more]

Expand your market online with our highly customizable ecommerce solutions. VAD knows the importance of present a professional image online. Call for ecommerce solutions today. [more]

With proven graphic design techniques we will create unique logos and a style for your business. Graphic design will help your business identity capture recognition and customer loyalty. [more]

Custom marketing materials say professionalism. Business cards, custom documents and marketing materials can be created with your logo and company message. [more]

Mission Statment

o help your business flourish with style! We enjoy helping small businesses grow through the use of innovative ideas and creative marketing strategies. Working together as a team, we can further your business in pursuit of success through the development of effective business website design or ecommerce solutions along with custom graphic design elements and marketing materials. We strive for excellence in all that we do. [read more About VAD]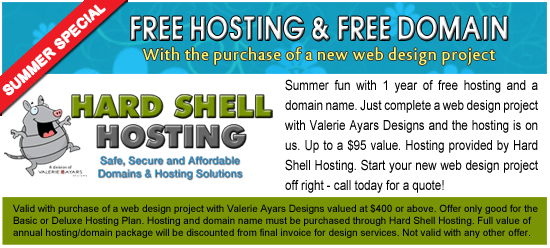 The Design Process
At Valerie Ayars Designs, we believe in keeping it simple. Having your website design, ecommerce solution, graphic design or marketing materials created should be a stress-free experience. We accomplish this by following a straightforward plan for the creation process.
Plan - we work with you to collect all the specs and other required information about your project.
Design - we use your specs to create a comprehensive first draft of your project.
Revise - gives you the opportunity to evaluate and make needed changes to the design we have created.
Finalize - we carry out any changes or alterations you require to complete the project.
Delivery - we will deliver or install the finished product according to your specifications.
[
read more about each phase of The Design Process
]